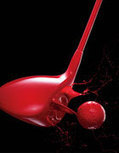 One of the hardest tricks to learn in golf is getting out of the sandtrap (or bunker, to you and I).
Stan Utley provides online video instruction as well as step by step 'play your way out of a bunker' written instructions.
This is the first post from my brand new UK Golf stream on Scoop.It, which I'll be sharing on my Google+ page, darrelldoo.  Or vice versa, depending upon whether I'm buffering or mid-flow.
With Steve holding back on webgolfcoach, the 300 golf followers on G+ have got to have a bit of something to keep their fores! and holes in one whetted. innit!?
Original article for the bunker lesson on www.golfdigest.com. Enjoy!